Types of Cigar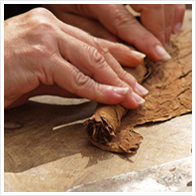 Most cigars are made up of three diffenent elements
Wrapper - The Wrapper is the outermost part of a cigar which is usually made from the larger, lower leaves of the plant. The wrapper is wound around the cigar and binds the whole cigar together. See the Different Types of Wrapper.
Filler - The filler is the contents of the cigar. The filler is made up of small, wrappep, bunches of leaves.
Binder - The Binders are leaves that are used to wrap the fillers together in the cigar. Binders are often made from the same leaves as wrappers only they have holes or are discoloured.
Cigars are usually categorized by size and shape.
Size
The size of the cigar is represented by two dimensions, the ring gauge and the length.
Ring gauge - This is the diameter of the cigar which is measure in 64ths of and inch.
Length - The Length of the cigar in Inches
For Example: a Dalia cigar has a length of 6.75" and has a ring gauge of 43
Shape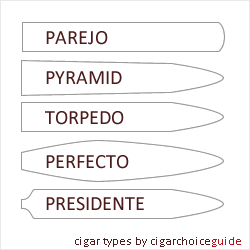 The shape of a cigar can be very varied, see the diagram for common cigar shapes.
The shape of a cigar does not dictate the strength, taste or quality of a cigar. Parejo is the most common shape of cigar.
Irregular shaped cigars are referred to as Figurados. Pyramid, Torpedo, Perfecto and Presidente are all classed a Figurados. These are usually of higher quality and value as they are much more difficult to make. Other Figurados include:
Culebras - Which consist of three long straight cigars that are braided together.
Tuscanian - This is an Itallian cigar that is typically long and thin with a thicker middle.
Little (small) Cigars
Little Cigars are very different from conventional cigars, mainly for their similarity to cigarettes. They are small and often have filters. Small Cigars are extremely popular due to low taxation and ease of purchase.