Accessory Guide
The perfect cigar requires the perfect accessories. From cigar humidors to cigar cutters, we will explain the main accessories associated with cigars and help you choose the correct pieces for your needs.
Humidors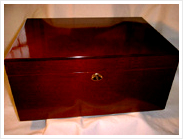 A Humidor is a specially designed case that enables you to maintain a constant humidity. Humidors create the perfect environment to keep cigars and are therefore essential if you want to keep the originally intended quality of your cigars.
Humidors come in all shapes and sizes, the most common being small chest types. They are available in travel sizes as well as large chest sizes to keep hundreds of cigars.
It is also possible to get humidor display cases so a cigar collection can be on show and not hidden away in a chest.
Cutters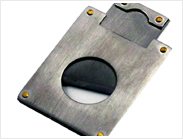 Most top quality cigars come with closed ends that require cutting. The reason these cigars are closed is to preserve the fillers to ensure maximum quality and taste. There are numerous methods for cutting the closed end, the most reliable and easiest method is through the use of a cigar cutter.
Using scissors or a knife can often leave you with a mashed, flaked end, which needs to be re-cut which will shorten your smoke. It is very hard to make a clean cut using such methods.
Cigar cutters come in a wide variety of shapes and size, from the pocket cutter to elaborate replica, miniature guillotine style cutters.
Cigar Cases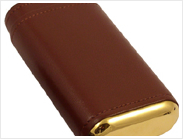 It is not always possible to take your cigar box or humidor, with you wherever you go so an essential part of every cigar aficionados collection is a cigar case.
Cigar cases are small enough to fit in your pocket or hand bag and usually fit three to five cigars. They come in varied sizes to suit most cigars that you can buy.
Cigar cases keep your cigars straight and safe, they can come with airtight seals to keep your cigars in the best condition possible.
Cigar Lighters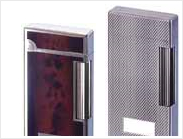 Cigars are not always easy to light, especially those with larger ring gauges and tighter fillers. Cigar lighters are purpose made lighters that have a wide flame and stay lit once ignited.
Cigar lighters are also very aesthetcally pleasing and are a must have for the cigar aficionado.